The Sealy Memory Foam Mattress
Let's take an in depth look at the Sealy memory foam mattress line. Sealy is a major mattress manufacturer in the United States with many different products. While it appears that their basic Sealy Brand Comfort Series visco foam beds are always available, they change up their top of the line memory foam offerings just about every year. Two years ago it was called Trueform, last year it was Embody, and just recently they introduced "Optimum". For now I'm going to focus on the Sealy Embody because that's what is still being sold in most stores. I haven't yet seen the Optimum anywhere except their website.
Support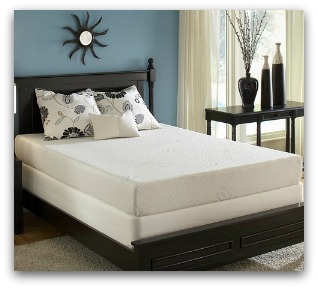 Visco elastic foam mattresses are a relatively recent development that many people consider more comfortable than older models that use coiled springs or cheap foam. A Comfort Series Sealy Memory Foam Mattress contains a high-density foam core with varying heights of six inches and up. This makes up the support layer which the comfort layer rests on top of.
It creates uniform support to provide better alignment for your back and neck. A memory foam surface feels quite different from a mattress with inner springs. A Sealy Embody mattress uses a thicker, higher quality and more expensive type of foam in this layer which should make it last much longer than the entry level Sealy Brand Comfort Series.
(Pictured above: the inexpensive Sealy Comfort Series Bay Island model priced at $559 for a Queen without the foundation. Note how thin it is compared to more expensive units.)
Sealy Memory Foam Mattress Comfort
A memory foam mattress relieves pressure points by conforming to your body shape and adjusting to your weight. It also absorbs motion so that you feel your partner's movements less. The comfort layer is the top layer of the mattress which your body rests on.
It can be composed of several different layers of material - in this case memory foam of varying densities. The Sealy Brand Comfort Series mattress will typically use one or two layers of lightweight foam. They're very comfortable, no doubt, but can't compare to the more expensive Sealy Embody.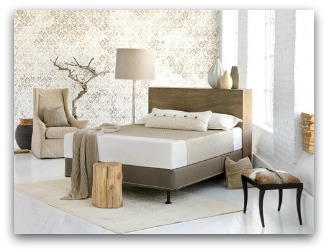 The most expensive model of the Embody uses three layers of high quality visco elastic foam:
1/2" 2.5 lb Ventilated Memory Foam
2" 7 lb Memory Foam
4" 5 lb Memory Foam
They researched and found this to be the most comfortable combination. The 2.5 lb top layer is ventilated to allow air circulation and hopefully solve one of the biggest problems with memory foam - many people find it to sleep too hot.
(Pictured above: the top of the line Sealy Embody Stillness, priced at $2699 for a Queen with no boxspring.)
The final layer between you and the foam is the quilting or outer upholstery. The Embody uses the proprietary Polartec fabric, which is composed of fine heavy knit fabric specifically designed for this type of foam. This fabric is more breathable and wicks away moisture more efficiently than traditional fabrics. Polartec also has anti-microbial properties that kill insects and bacteria.
The company currently makes visco foam mattresses with four different firmness levels. The following comfort levels are listed in order of increasing firmness:
Ultra Plush
Plush
Cushion Firm
Firm
Sizes
Mattress manufacturers produce mattresses in several standard sizes. A twin-size mattress is 38 inches wide and 75 inches long, and a full-size mattress is 53 inches wide and 75 inches long.
A queen-size mattress is 60 inches wide and 80 inches long. A king-size mattress is 76 inches wide and 80 inches long, and a California king-size mattress is 72 inches wide and 84 inches long.
The standard height of a Sealy box spring is nine inches. A low-profile box spring with a height of five inches is also available. Mattress retailers will have more details on this substitution. Foundations really aren't very important with memory foam beds so if, for instance, you have a platform bed, you may not need one at all.
Sealy Memory Foam Mattress Prices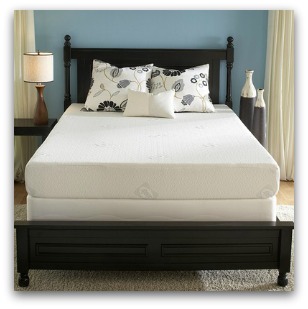 The typical sale price for an entry level Comfort Series Sealy Memory Foam Mattress is as follows:
Twin $459
Twin XL $499
Full $499
Queen $559
King $699
Cal King $699
These models come with a full 10 year non-prorated warranty.
(Above: a front end shot of the entry level Comfort Series Bay Island.)
---
The typical sale price for a mid-range Sealy Embody mattress is as follows:
Twin $1,799
Twin XL $1,979
Full $1,979
Queen $2,249
King $2,699
Cal King $2,699
These models come with a full 20 year warranty. However, the final ten years will be prorated.
Sealy Memory Foam Mattress Durability
The primary reason for the large price difference between the Sealy Brand and Sealy Embody mattresses is the thickness and density of the foam. The density of the memory foam is measured in pounds per square foot, so 5-pound foam has a density of five pounds per square foot. The density of memory foam ranges from 2.5 pounds to 7 pounds.
Dense foam is more expensive, but it is also more comfortable and longer lasting. Foam with a density of 2.5 pounds is very light and often begins sagging within a year. Foam with a density of 7.0 pounds is very comfortable and will last for many years.
(Below: The mid level Sealy Comfort Series Ocean Crest which is $939 for mattress only.)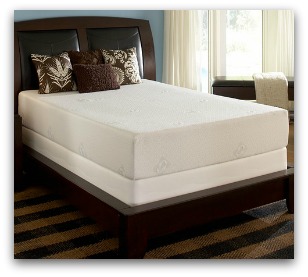 The Visco Bay Island model in the Sealy Comfort Series has 2 inches of 2.5-pound foam. The Visco Ocean Crest and Visco Cedar Point models both have 3 inches of 4-pound foam. The Redwood Lake model has two layers of foam, including 1.5 inches of 4.0-pound foam and 2.5 inches of 4.0-pound foam.
The Embody Introspection model has 7 inches of a high-density polyurethane core, 2.5 inches of 5-pound foam and a 0.5-inch layer of 2.5-pound foam. The polyurethane foam provides firm support for the body to keep your back and neck aligned. The two layers of visco foam conform to your body's shape for greater comfort.
The Sealy Embody Memory model has 2 inches of 7.0-pound foam, 4 inches of 5.0-pound foam and 1/2 inch of 2.5-pound of ventilated foam. The Prophecy model has 1 inch of 7.0-pound foam, 2 inches of 5.0-pound foam, 1 to 2 inches of convoluted 4.0-pound foam and one half inch layer of 2.5-pound ventilated foam.
Sealy Memory Foam Mattress Care
A visco elastic foam mattress should normally last a long time, and this can be improved with simple maintenance. First, it should be aired out for a short period after you remove it from its packaging. This will get rid of the new mattress smell before you put the bedding on it.
You must also place it on a frame of the proper size. Mattresses with a width of 60 inches or greater require a frame with a support in the center. This requirement applies to queen-size, king-size and California king-size mattresses, and is necessary to maintain the warranty.
The two sides of a Sealy mattress are not identical. The side with additional upholstery should always face up. These units should never be flipped, but they can be rotated occasionally to distribute body impressions evenly.
A mattress pad should be purchased separately to protect it from spills. Clean Sealy mattresses only with mild soap and cold water, by applying the water very sparingly. They should not be exposed to dry cleaning fluid or other harsh chemicals, which can damage the upholstery.
Sealy Memory Foam Mattress Reviews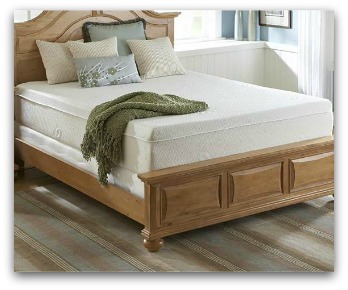 The most common complaint about inexpensive foam products is they lose their shape-conforming properties relatively quickly. In this case I can only say that you get what you pay for. Other problems include heat and chemical smells. However these are problems seen with all visco foam beds and Sealy customers actually report less than others.
The company's memory foam mattresses have received very good reviews. A survey of recent customers came up with about a 90 percent satisfaction rate. This compares favorably against an average customer satisfaction rating of 77 percent for all mattresses. It's about normal for memory foam mattresses which usually score much higher than other types.
(Above: the Redwood Lake, the most expensive Sealy Comfort Series model, priced at $1,099 for mattress only in a Queen size)
Many customers giving favorable reviews have chronic skeletal injuries that normally prevent them sleeping well. They frequently report getting a better quality of sleep from memory foam than with other materials. I have no problem recommending Sealy memory foam mattresses and am confident you'll do well with one of these quality beds.
Good Place To Buy
If you're interested in purchasing a Sealy memory foam mattress I recommend Wayfair. They have some of the lowest prices anywhere and their website is well organized so it's a breeze to find what you're looking for. They offer free in-home delivery and setup which is much better than the curbside delivery offered by many others. Plus they have a 100 day comfort guarantee!
Trueform - The Previous Sealy Memory Foam Mattress
Trueform is an older model of Sealy memory foam mattress. It was their first product to bring together their Posturepedic support and the pressure relief quality of memory foam. It may still be available for sale in some places.
The company's Outlast Smart Fabric in the top layer is meant to regulate body heat and keep you comfortable throughout the year. This fabric was first created by NASA to protect astronauts from the severe temperatures in space.
---
It was available in six different models with various levels of cushioning:
Highland Cove
Comfort Level - Firm
Cool Springs
Comfort Level - Cushion Firm
Crystal Sea
Comfort Level - Plush
Gracehill Harbor
Comfort Level - Ultra Plush
Reflection Bay
Comfort Level - Cushion Firm
Camilla Bay
Comfort Level - Plush Eurotop
---
All of these models were compatible with Sealy's adjustable bed. All of them came with a 20 Year Limited Warranty and the Trueform Foundation which provides a solid base for the product.