Spring Air Back Supporter
by Dennis Hall
(Atlanta, Georgia )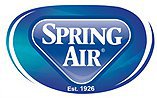 I purchased a Spring Air Back Supporter Sleep System and it is the best investment that I have ever made.
I had back surgery in the eighties and I found that I was losing sleep and was unable to face the day. After making my purchase on my Back Supporter I can face the world again.
I had to get up and move to the couch, floor and chair but nothing would help. I would not trade it for any other mattress of ANY kind.
There are a lot of companies telling you their mattress is the best but I am living proof that, at any cost, you will not beat a Spring Air...