Tempurpedic Complaints
The Four Biggest Concerns
Tempurpedic complaints aren't very common but here's the four main concerns we found.
They're Too Hard
For those used to a conventional mattress, memory foam might seem hard and unforgiving at first. This is certainly one of the most common Tempurpedic complaints.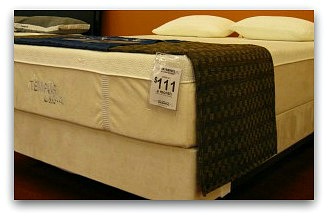 However, the foam needs time to react to your body temperature and mold to your shape.
Despite first impressions the material actually relieves pressure points compared to coiled springs.

By distributing your weight more evenly across the surface it prevents any one spot from becoming painful and causing you to readjust your position.
(Above: the top of the line Tempur-Cloud-Luxe which runs $3699 for a Queen size. The foundation adds another $300.)
Many people come to like them very quickly but some never get used to the different feel. It's hard to find a quality memory foam mattress which is as soft and comfortable as a high end ultra plush coiled spring bed. Luckily the company offers a 90 night tryout period during which you can return the mattress.
However, it may be wise to spend some time on one at the showroom so you can hopefully save yourself the hassle of returning such a large, heavy, expensive item.
Over the years since they were first introduced, Tempurpedic has taken this complaint very seriously. They've invested huge amounts of time and money trying to develop a softer feeling memory foam which can still provide all the benefits people have come to expect.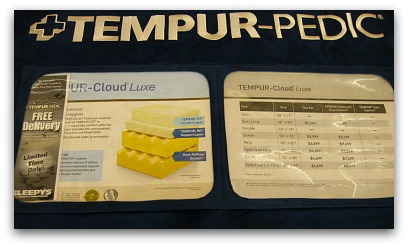 They recently introduced the Tempurpedic Cloud line as a direct answer to this problem and it seems to have worked. They're made with a new type of foam they've called Tempur-ES (extra soft?) and are incredibly comfortable without any trace of being too firm.
That they can do this without giving up the extra support that traditional memory foam provides is a real achievement. By using the softer foam only in the top layers on a base of firmer material, they are able to give people that pillowy softness that they get from an ultra plush traditional innerspring bed.
(Above: the brochure found on the Tempurpedic Cloud Luxe at Sleepy's which shows the thick Tempur-ES layer as well as other details about this high end mattress.)
Tempurpedic Complaints - Too Hot
Early memory foam beds slept hot so they weren't that comfortable in warmer climates.
For some reason the material would absorb body heat and release it slowly acting kind of like insulation.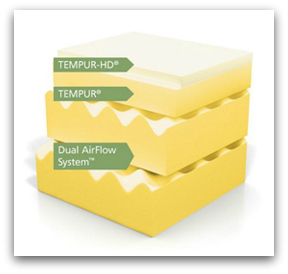 Tempur-Pedic has addressed this issue by using different types of material in the base layer that are specifically designed to allow better airflow.
By using a sort of egg crate shaped surface they create room between the layers for air to circulate and allow heat to dissipate.
The more expensive models actually use two of these airflow base layers for even better results.
They also use high tech fabrics in the surface upholstery to wick away sweat and control your body temperature.
However this is a basic property of memory foam in general and not an easy problem to solve. Tempurpedic complaints about sleeping hot are still heard to some extent.
Some people recommend a natural latex mattress as a cooler alternative.
(Above: the dual airflow layers making up the Tempurpedic Rhapsody mattress. It is the least expensive of the Tempur HD collection but still runs $3199 for a Queen with mattress only.)
Tempurpedic Sex
One of the most common reasons these mattresses get returned is that memory foam is kind of hard to move around on. Your body tends to sink into the surface and get anchored in place.
This makes it difficult to engage in certain activities where you change positions frequently. Tempurpedic sex has been compared to trying to do it in quicksand.
Young couples often find they prefer the bounciness of a traditional innerspring mattress.
In order to find out more about this issue we actually took a poll on the subject from visitors to our site:
Bar Graph of Tempurpedic Sex Poll Results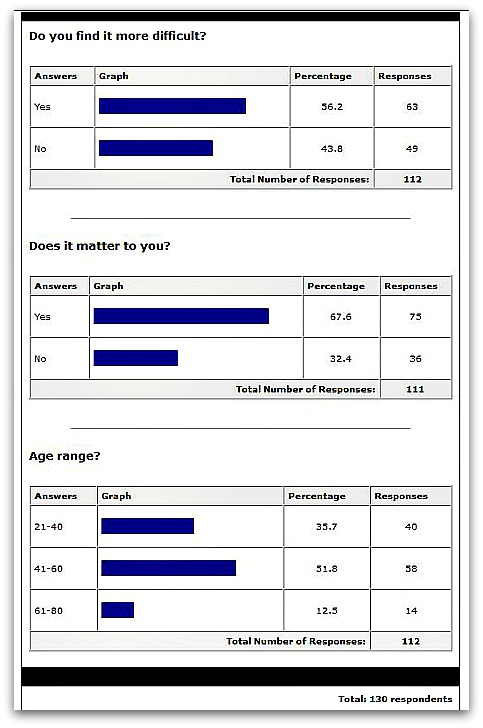 We realize 130 responses isn't that many, but it was all we could get in a reasonable amount of time. As you can see there is definitely some truth to this complaint, with over half of our respondents reporting that sex on a Tempurpedic was more difficult. We imagine that this would be true of all memory foam beds without springs, not just Tempurpedic.
The majority of people polled - about two thirds - were definitely concerned that this may be an issue. About half of those who replied were over 40, which makes sense, since as you get older most people become less limber.
Aging, of course, is also one of the reasons people experience more back and joint pain, and thus a major reason that someone would buy a Tempurpedic or any other memory foam mattress in the first place.
Tempurpedic Complaints - High Price
Another of the main Tempurpedic complaints is that these mattresses definitely aren't cheap.
However, the entry level models are somewhat more affordable and may be a viable alternative for someone who's considering a top of the line innerspring type.
Over time the company has been taking this complaint quite seriously as well. They recently introduced the Tempurpedic Simplicity line in order to adress this issue.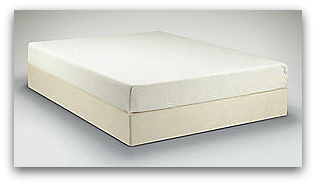 The Tempur-Simplicity models are quite affordable but are still made with genuine high quality Tempurpedic memory foam. They developed the new Tempur-Essential material specifically to provide all the original benefits of their products at a much lower price.
They're even available in three different comfort levels: soft, medium, and firm; thus solving two problems at once.
Our only concern with the Simplicity line is that they may sleep hot since they lack the airflow base layer, but the jury is still out on this.
(Above: the Tempur-Simplicity mattress in the medium comfort level. No matter which firmness you select they cost the same - $1,199 for a Queen without foundation.)
These are the least expensive models that they produce. For more information on the cost of the company's mattresses be sure to check out our Tempurpedic price guide.
In closing, we hope you find this summary of the most common Tempurpedic complaints useful in your research. Keep in mind that these concerns really aren't very common - we had to dig pretty deep to find them at all. In general the Tempurpedic reviews found online are glowingly positive.
Good Place To Buy
If you're interested in purchasing a Tempurpedic mattress we recommend Relax The Back
. They specialize in products for back care and are a well established retailer with over 100 stores nationwide. They offer free shipping on orders over $300 and have a proven track record of customer satisfaction. Most importantly they offer a 90 day comfort guarantee.
Related Memory Foam Pages
Models of Tempurpedic Beds
Englander Memory Foam Mattress Line
The Novaform Memory Foam Mattress
Sealy Memory Foam Mattresses
Serta Memory Foam Mattress Products
Simmons Memory Foam Mattress Line
Therapedic Memory Foam Mattress Products
Therapedic Memory Touch Mattress Topper